Bosch security systems are designed and manufactured in Australia, with a reputation forged over the years for their reliability and high quality. Their powerful security systems provide many Australian businesses and residents with comprehensive security to help them protect what's important.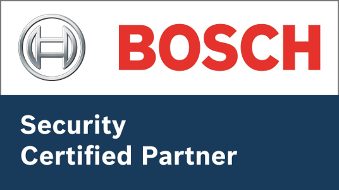 Possessing 35 years of industry experience, Twenty First Security is an authorised dealer and Bosch Security Certified Partner. With our unique relationship with Bosch, we offer quality security systems at competitive rates for businesses, individuals and organisations for both commercial and domestic purposes. Whether you need to protect the contents of your warehouse, office, venue or home, our team have the expertise to assist you with quality Bosch products.
Benefits of a Bosch Security System from Twenty First Security
The Bosch products we offer aim to provide a feature-rich security solution that is effective, reliable and affordable, offering great value for money. These features include:
Reliability and capability.
High speed interfaces and communication between devices.
Multiple wire free options are available.
Broad range of integrated access control options including proximity readers / key card readers and keypads. For higher security requirements, biometric fingerprint readers are available.
Easy remote arming.
Weatherproof external interfaces for enduring nature.
When controlling your Bosch system, you'll experience a simple user interface that is intuitive and quick.
Discreet options are available when you want your security to blend right into the environment.
Versatile accessories for a system to suit your specific needs.
We've used and installed an extensive range of systems over the years that are and have been available throughout the Australian market and Bosch continues to shine as a great solution for commercial and domestic needs. Our fully trained and licensed technicians can advise you on the best Bosch system to suit your budget and unique requirements (whether commercial, non-profit or residential).
Why Choose Twenty First Security?
Our veteran team have extensive experience over the years helping businesses, organisations, businesses and families protect what's important to them. Benefits we offer to you include:
Over 33 years industry experience.
We're Australian owned and operated.
We are an authorised dealer of Bosch security products.
We're a member of the Australian Security Industry Association Limited (ASIAL).
We provide an extensive range of CCTV / camera, access control and alarm products to suit your unique needs.
We're familiar with all security camera and alarm systems on the Australian market.
We provide products and services for commercial, residential and non-profit use. From large warehouses and corporate offices to small homes and everything in between, we're here to help you.
Our technicians and licensed and fully trained.
We can install, repair and upgrade your security devices.
We can visit you at your Melbourne location.
Securing your premises doesn't have to break the bank. All of our products and services are provided at a competitive price.
For those looking for extra security and peace of mind, we offer 24 hour monitoring services.
Ongoing support when you need it. If you have any questions or require further assistance, our team are here to help you.
To find out more about the leading edge support, services and products services offered by us at Twenty First Security, please contact us. Our licensed and fully trained technicians are happy to answer your questions and to help you find a solution that suits your needs.
Efficient Installation and Maintenance Services
A security system can be incredibly complex, confusing and time consuming to install. That's where Twenty First Security takes the pressure off you and efficiently installs security systems in your office, warehouse, hotel, supermarket, store, club, venue and home at a competitive rate. Rest easy knowing that our team with over 33 years of industry experience are here to provide you with quality advice, products and services at affordable prices.
Our expert technicians can visit your location to review, recommend, upgrade, repair and install Bosch alarms, access control panels, keypads and more throughout your premises. If you have any questions before, throughout or after the process, please contact us and our technicians will be happy to assist you.
24 Hour Monitoring
Are you worried about what is occuring at your premises when you're not there? Complement your Bosch alarm and security system with the comprehensive 24 hour monitoring service from Twenty First Security, giving you more time to relax and focus on what's important to you.
Our 24 hour monitoring service is provided from our Grade 1 central monitoring station (Grade 1 is the only grading which can ensure a police response to an alarm) in Melbourne, VIC; where extensively trained operators are on standby 24 hours a day. The monitoring station will keep an eye on your premises for multiple alarm conditions, such as burglary, fire or medical emergency and will quickly dispatch the nearest patrol officer or emergency services to your premises, depending on the alarm condition and your preferences.
Find out more about our 24 hour surveillance monitoring service.
Free Quotes for Melbourne Metropolitan and Rural Areas
We can visit your location to provide a free quote and consultation, with no hidden catches or obligations. This free on-site quote is available for customers throughout Melbourne metropolitan and rural areas.
Our quote process is simple. To start, contact us and we'll schedule a time that suits you to review your situation and requirements onsite. Depending on your situation and needs, we can potentially discuss your requirements in detail over the phone as well; our fully licensed and trained technicians are happy to help you with quality advice that aims to deliver. From there, our industry experts visit you to review and discuss what options are appropriate for you, your business and your home.
Contact us now to find out when we'll be in your area and schedule your free quote.
Don't leave the security of your premises to chance. Call us now on 1300 315 522 or send your enquiry to find out how Twenty First Security can help protect what's important to you.